Fashionstorexx Camping Tableware Outdoor Cookware Set Pots Tourist Equipment Utensils Hiking VN
Features:
1. Material upgrade: the pot body material is upgraded from ordinary anodized aluminum to hard anodized aluminum, the oxide film is thicker, and the surface of the pot body is stronger and wear-resistant
2. Adapt to harsh environment: Available in alpine and snowy mountains, suitable for professional mountaineering activities, good windproof effect, fast cooking speed, and can quickly replenish energy.
3. Light and easy to carry: The pot body is small in size and light in weight; the pot has a large body capacity, which can accommodate air intake tanks, gas stoves, tableware and other items, which is convenient to carry.
Advantage:
1. The pot has a large content, which can be stored in flat gas tanks, stoves, spoons, etc., and is convenient to carry. Two pots can be used in combination to meet a variety of cooking needs.
2. The handle is wrapped with resin material, anti-scalding and non-slip.
3. It is recommended for 1-2 people to adapt to the alpine snowy mountains. The matching burner can be split or integrated. It is best to choose a fire plate with a diameter of less than 6 cm, which can better exert the energy-gathering effect.
4. The large pot can boil water and boil noodles to cook rice, the middle pot can cook vegetables and omelettes or heat food, and can also be used as a bowl.
Precautions:
The tableware should be smooth and burr-free. Try to use a cleaning cloth or cotton when cleaning, so as not to scratch the pot body and affect the service life. When cooking rice or vegetables, the fire power is not easy to be too high, so as to avoid sticking the pot or heating unevenly.
Specifications:
Color:As the picture shown.
Material: hard anodized aluminum
Contains components:
1. Frying pan: size 15.8×3.7cm/6.2×1.5in
2 Stock pot: size 15×7.2cm/5.9×2.8in; weight 145G, capacity 0.95L.
3.Small lid: weight 50G.
4. Plastic soup spoon: 25G weight, foldable handle, stainless steel handle, food spoon material
Grade PP plastic.
5. Plastic bowl: weight 20G, made of food grade PP plastic.
6. Bamboo shovel: weight 9G, made of bamboo.
7.Cleaning cotton: weight 2G, material is organic sponge.
8. Storage bag: weight 25G, material is polyester cloth.
Indoor environment boiling water test: equipped with a 3500 watt burner, boil 500ml of water in 1 minute and 45 seconds
Package included:
1x soup pot lid
1x frying pan
2x plastic bowl
1x plastic soup spoon
1x bamboo shovel
1x cleaning cotton
1x storage bag
Notice:
1.Due to the light and screen setting difference, the item's color may be slightly different from the pictures.
2.Please allow slight dimension difference due to different manual measurement.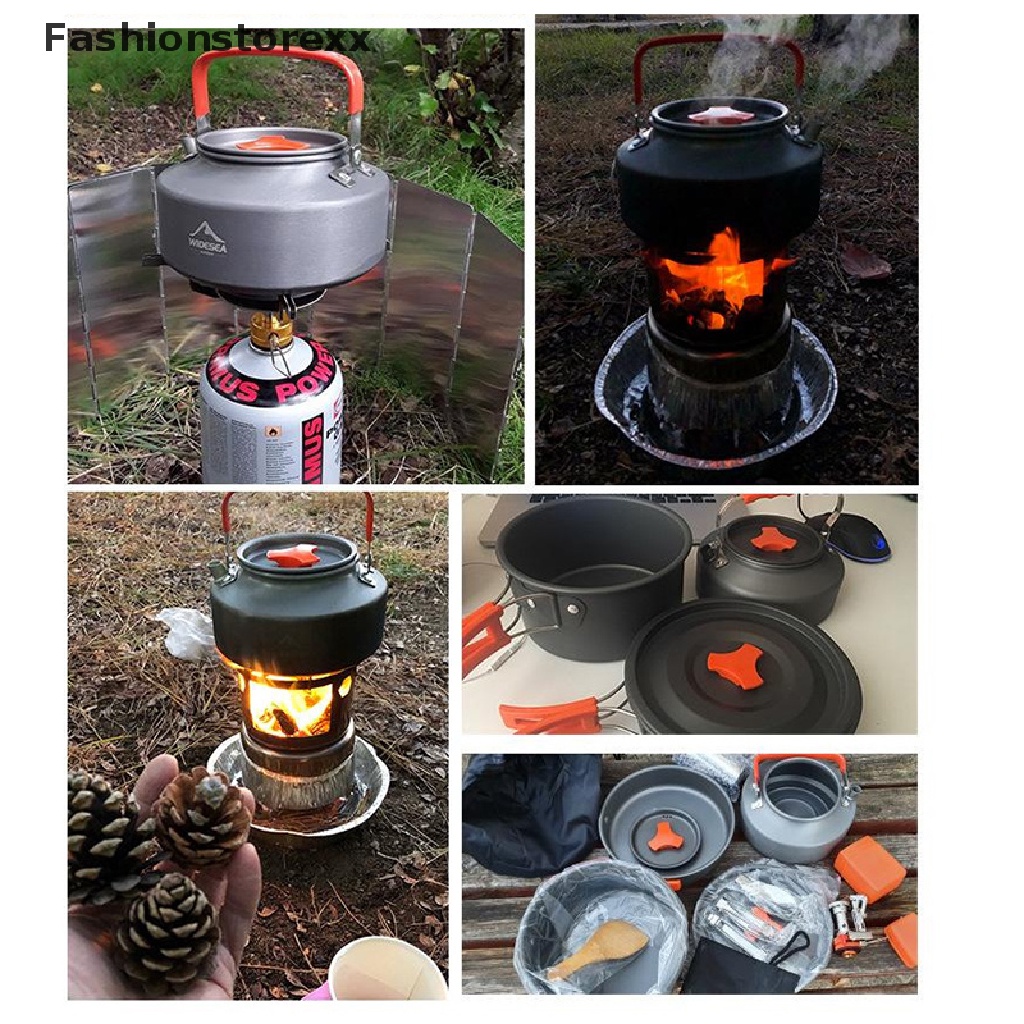 Fashionstorexx Camping Tableware Outdoor Cookware Set Pots Tourist Equipment Utensils Hiking VN – – top1shop